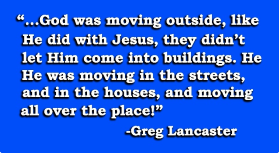 In the 1970's, the Lord carried out a powerful and sovereign move of His presence that swept the entire nation, that eventually reached the nations of the world, and it is continuing to bear fruit to this day. This move of the Holy Spirit was know as the Jesus Movement. The Lord recently revealed to Greg Lancaster, "It's going to be the 1970's again". God is going to do it again. In a recent conversation, Greg Lancaster was able to sit down and share some unforgettable moments with longtime friend, and brother in the Lord, Jack Hollis, and talk about what God is about do again in America and in the nations of the world.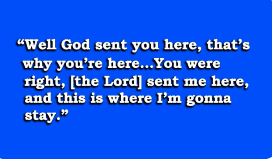 When we look at what the Lord revealed to Greg, we want to do all that we can to prepare for this great coming wave of God's presence. We cannot focus on the limitations of our 'buildings', and our 'organizations' in order to prepare for such an unprecedented move of God's Spirit. As Greg points out, "what God was doing then, the people that had the books and the committees, didn't want them to come into their churches. And, so God was moving outside, like He did with Jesus; they didn't let Him come into buildings. He was moving in the streets, and in houses, and moving all over the place!" As a man who has walked with the Lord for more than 50 years, Jack Hollis has personally witnessed a similar move of God when He came to the Lord in the 1970's during the Jesus Movement.  
Jack talks about those beginning days when he was ministering to people as best as he knew how, and was led to an old TV shop. In the middle of a time worshipping the Lord, Jack's attention was suddenly on a man that was walking by.  "[The man] came over and opened the front door, and he stepped just inside, and he had a 6-pack of beer; and he sat it down, and he sat on that beer while we were worshipping." Jack knew the Lord was drawing this man. "I knew, the whole time he was sitting there, I'm thinking, 'God just drew him in here'".  Jack recalls that this has happened time and time again where people found themselves at the church gathering where Jack was pastoring, and end up staying. After one particular woman was given directions to connect with a fellowship of believers, she arrived to find that she didn't know anyone present. "I don't recognize anybody". Geno, a man in ministry with Jack Hollis, responded to her, "well God sent you here, that's why you're here". At the end of the gathering, this woman knew it was the Lord that directed her. "You were right, [the Lord] sent me here, and this is where I'm gonna stay." This is what God does!