My name is Barbara Still let me tell you my story…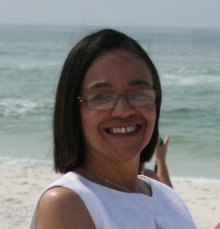 It was a beautiful Friday morning on Pensacola Beach in March of 1985. I was living in a rented house on the beach with my five young children. The man I had been living with had taken my older kids to school several weeks prior to that date and never came back. He dropped them off at the elementary school and literally vanished.
We lived on the sound side of the island, which was called the quiet water side. For some reason I had a strange urge to go over to the gulf side of the island that day. A friend of mine was supposed to go with me, but at the last minute she canceled. So I packed up a blanket, a good book, and my two preschool aged children and headed over to the Gulf of Mexico. That was probably a two minute drive!
As I sat reading the book entitled Steps to Christ, which I received in the mail from a friend in Atlanta, my children went down near the water to play. I then noticed a figure out of the corner of my left eye. The beach was otherwise completely vacant. As the figure approached, I could tell it was a man. That wasn't odd, but the fact that he was a Black man dressed in a suit and wearing shoes on the sand, and suddenly heading straight for my blanket was totally shocking! Needless to say, I was not very cordial to any man after having been "dumped" without warning by the live-in boyfriend.
This man came directly to the edge of my blanket and told me he was a pastor from Baton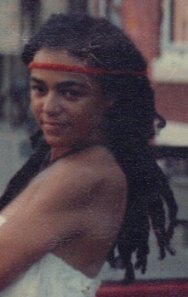 Rouge, LA. Well, I was certainly going to let him know I was no dummy. I may have looked crazy, but I had a college degree and was raised in the church! Why would I say I looked crazy? I'm glad you asked that question. I guess I just didn't fit the norm. First of all I was fully dressed sitting on the beach. Next I had a head full of dreadlocks (down to my waist.) And to top it all off… a nose ring in my right nostril and several earrings in each ear. Not your ordinary sun worshipper! I was also a vegetarian, which meant I ate no meat, no fish, and no eggs. We didn't believe in killing animals, but I could easily kill a person with my words! Our mantra was "Peace and Love!" Although we didn't live in peace and had no clue what love really was.
I decided to ask this man of God a few questions, to which he gave me the strangest answers! I asked him about his denomination. He said he had a relationship, not a denomination. I asked him if he knew what color Jesus was. He said it didn't matter what color Jesus was; He died for the sins of all mankind. That was the most ridiculous answer of all. Surely this young Black preacher should know that Jesus was Black. I mean even I knew that! Then he asked if he could pray for me so I agreed, but who knew he was going to pray out loud? That sealed the deal for me. He was a true "nut case!" As he walked away, I realized that I had a very peaceful feeling, which lasted the rest of that day.
Later that evening the pastor from Louisiana led me to Christ, which changed my life forever. The first thing that changed was my racist attitude. I no longer had hatred in my heart for white people. I didn't know then that racism was a spirit and I had instantly been delivered from the poison and venom of an evil spirit. I only knew that the weight of the world literally lifted off my shoulders and I felt clean, very clean.
The very next day God called me by my name. I actually thought there was a man in my house calling me! His voice was just that clear. He proceeded to tell me all the things I had ever done to try to please Him. Things that included being a Muslim, living in polygamy, legally changing my name, dressing in only cotton or "natural" fabrics, naming my children exotic names, even eating only fruits and vegetables! Then the God of the entire universe spoke these words to me: "All I ever wanted was your heart!" Only a true and living God would know I had never given my heart to anyone. Oh, it looked like I had given my heart away many times. After all, I was married, in and out of affairs, and had five children. But I had built a wall around my heart as a young girl and no one could penetrate it. Those seven words He spoke pierced my very soul and immediately I realized everything I had done in life had no meaning. The only thing on this earth that really pleased God was a matter of my heart!
You can know this same God in a very personal way just by giving Him your whole heart! Your life won't ever be the same. You can start your new life this very day. Simply ask Jesus to come into your heart and forgive you of your sins. What have you got to lose? Only that heavy weight you've been carrying all your life. I can still feel that weight… the weight of living a lie; the weight of trying to numb the pains in life with drugs, sex, or shopping; and the very heavy weight of hatred or anger. Aren't you tired of carrying those weights? Lay the weights down at the feet of Jesus and learn what real peace feels like and how to truly love.
If you'd like to invite the Lord Jesus Christ into your life as I did read more.
Image courtesy of gerasimov_foto_174/shutterstock.com
RELATED CONTENT

Secrets of the Kingdom

iAbide.org

Emmaus Road Discipleship

VFN Kingdom Business

Subscribe to our YouTube Channel

Join the VFNKB Community

Follow us on Twitter

Partner with VFNKB